NYSCATE offers various membership plans for individuals and educational agencies to join our organization. Please see details and pricing below to select which plan is right for you!
NYSCATE District Membership Program
During the 2020-21 school year, NYSCATE has seen a significant increase in membership due to the various remote learning professional development options that were offered. NYSCATE is now a proud partner of NYSED as we are offering 40 online courses, and webinar series for parents and teachers at no charge! This is a very exciting time for NYSCATE and we welcome your district to become an annual member.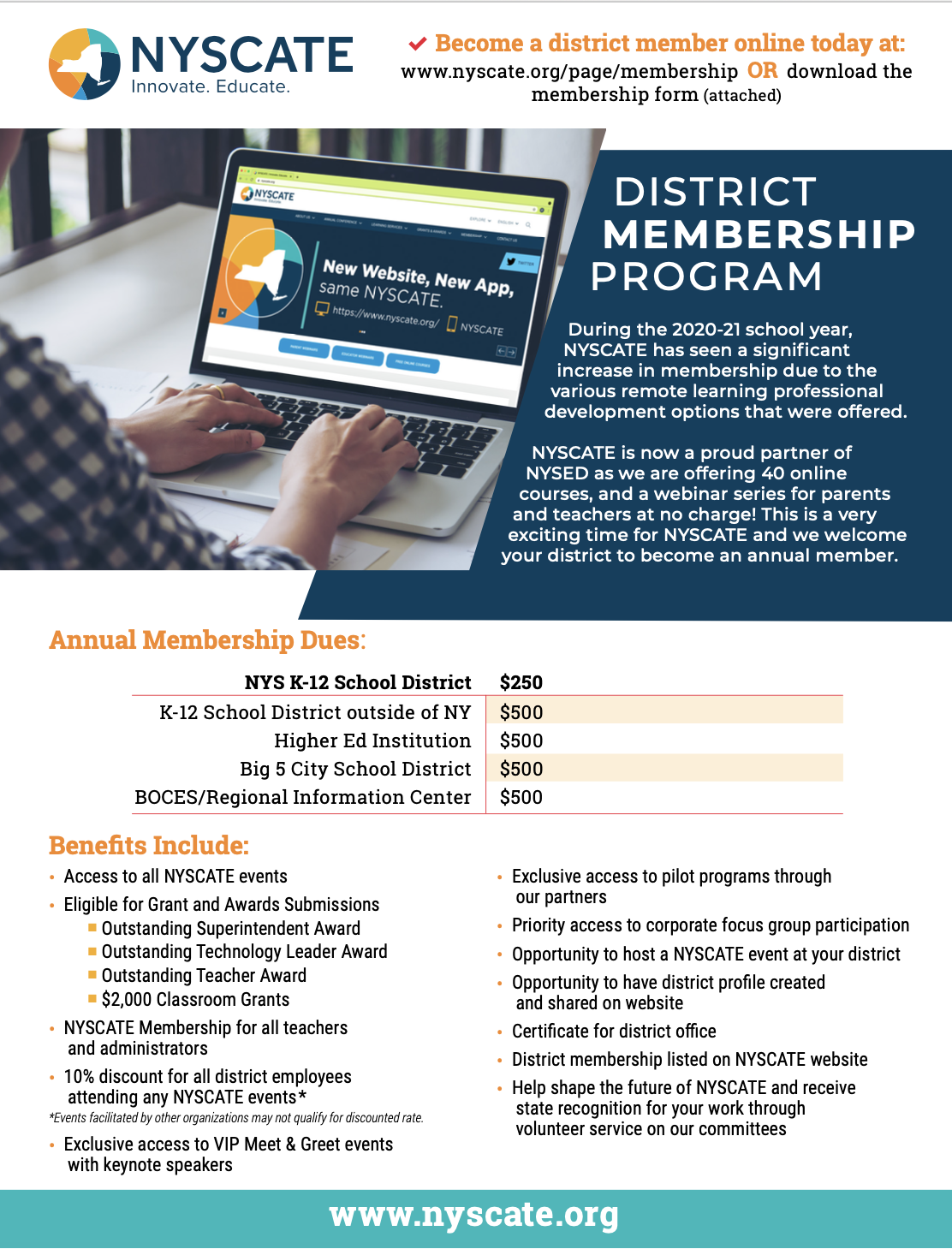 Register online with a credit card, or print form and send it with Purchase Order information.
EMAIL/FAX YOUR PURCHASE ORDER AND REGISTRATION FORM TO: info@nyscate.org 518-786-3983

COSN/NYSCATE Joint Institutional Membership
The institutional membership category is available only to organizations such as school districts, educational service agencies, state education agencies, colleges and universities, and nonprofit organizations. This is a joint membership between CoSN and NYSCATE.
Once a school district is a member, unlimited members from your district receive benefits and professional development opportunities. Full access to benefits begins once they create a CoSN membership profile. For more information about joining CoSN and NYSCATE, please contact Sean McDonough.
Benefits for Institutions
COSN/NYSCATE Joint Institutional Membership Fees:
MEGA LARGE INSTITUTIONS
Mega Large School District (50,000+ students)

Large College or University (50,000+ students)
Annual Dues
TOTAL: $2,450
LARGE INSTITUTIONS
Large School District (10,000-49,999 students)

Archdiocese

Educational Service Agency, BOCES

State Education Agency/State Ed Network

Large College or University (10,000-49,999 students)

Non-Profit Organization
Annual Dues
TOTAL: $1,650
MEDIUM INSTITUTIONS
Medium School District (2,500-9,999 students)

Medium College or University (5,000 - 9,999 students)
Annual Dues
TOTAL: $1,065
SMALL INSTITUTIONS
Small School District (under 2,500 students)

Private/Charter School

Small College or University (under 2,500 students)
Annual Dues
TOTAL: $390